Why SEO is Important and 7 Ways to Improve SEO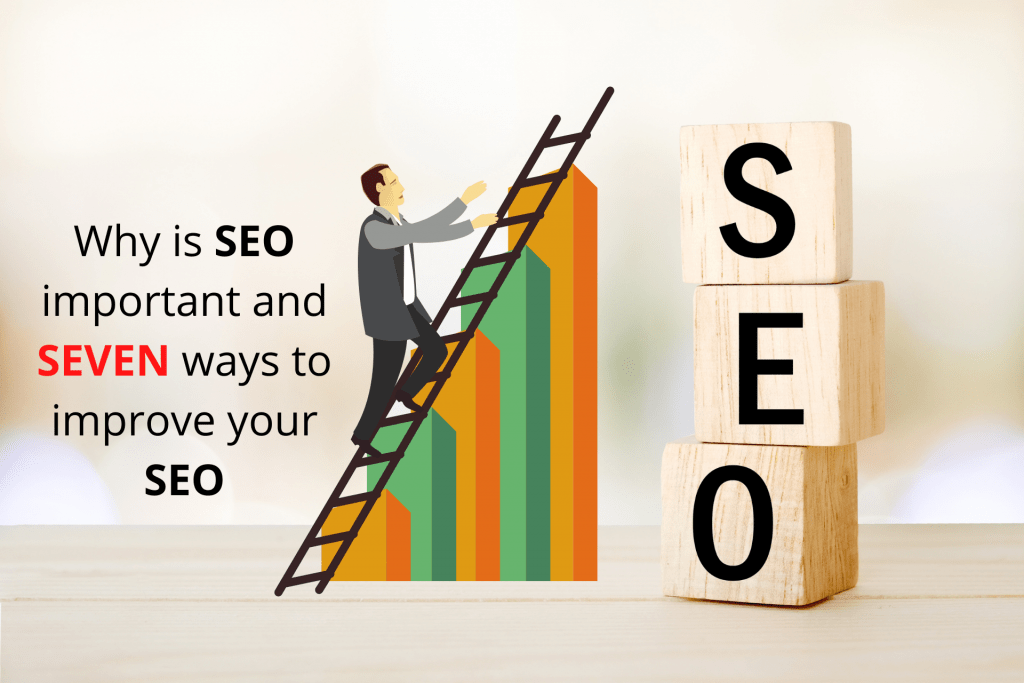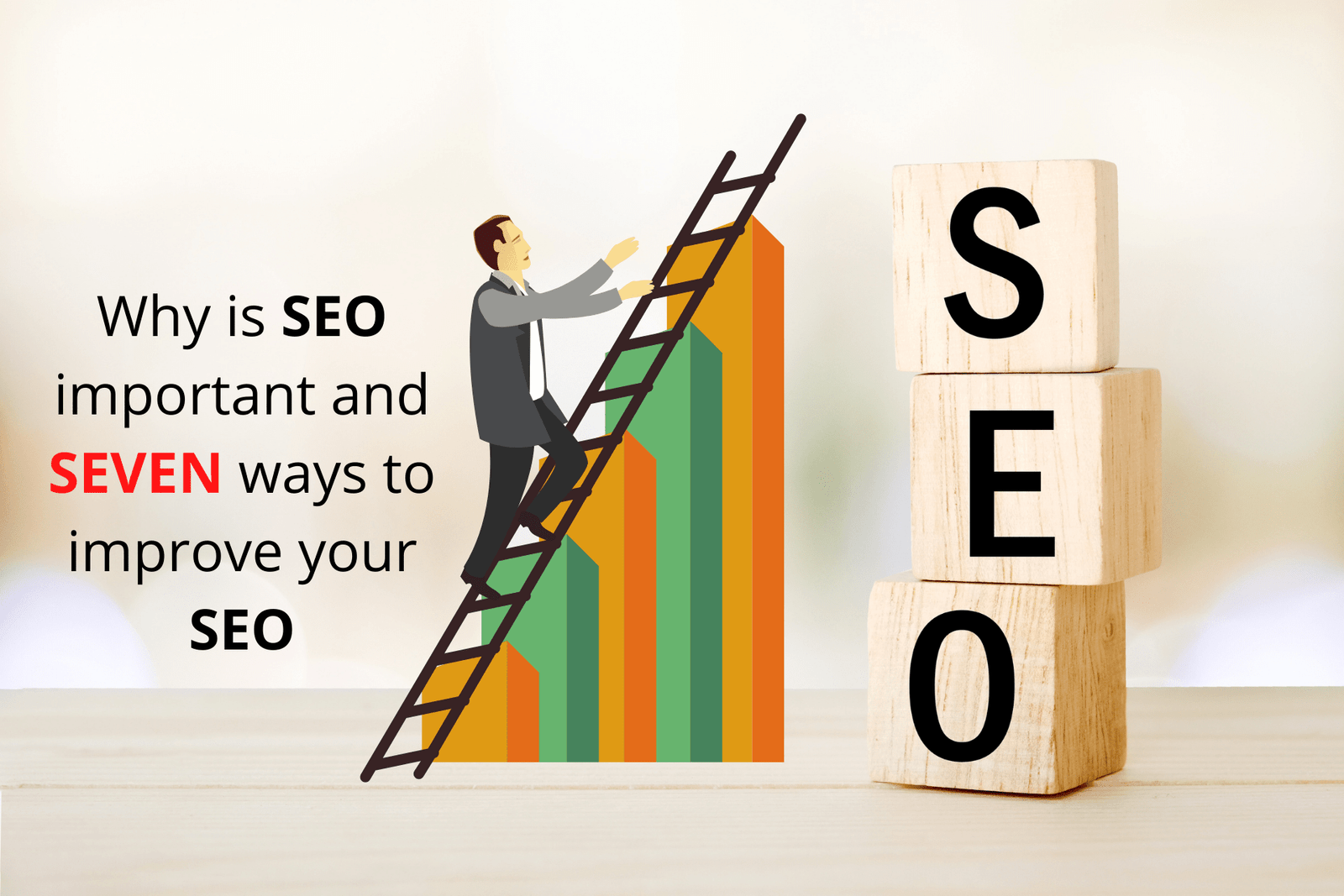 Last Modified on: 27-09-2021
Today 94% of consumers and businesses search the internet before buying a new product or service. A typical consumer journey starts from Google where they submit a keyword and search. The search returns a list of relevant websites in return. People tend to visit websites that are at the top of this list because they appear to be more relevant to their search.
As a business, you will find your competitors at the top of these lists. Studies show that if your website is not at the top of these lists that appear when a keyword is searched for, you will never reach your prospective customers online. Now if you have wondered why your competitors appear at the top of the list while you are nowhere to be seen, it is because of a marketing technique called SEO.
SEO is the short form of Search Engine Optimization. This technique helps your site rank higher than the millions of other websites in response to certain keywords when searched. The algorithm of Google, Bing, or any other search engine collects information about every page on the web and can help people find exactly what they are looking for.
When your page gets higher rankings, it helps more people to find you. To get higher rankings, your page must have all the ingredients that search engines are looking for. This is what makes up SEO for a page. SEO looks for text contents, links, page titles, and other pieces of relevant information that are contained in the HTML code of your website. This way, say when someone searches for "Boats", the search engine will narrow the results to show the pages that contain the words searched for. So you see how important it is for your business to be on the first page of every major search engine for the specific keywords that are relevant to your potential customers.
Without SEO your website will never be found by your potential customers. In today's super-competitive digital environment, you need a very strong SEO is important to ensure that your website is at the top of the list when someone searches for a keyword related to products or services that you deal in. So what do you need to do in order to ensure that you have laid down a solid SEO foundation and your website ranks at the top? While ranking in search engines won't happen overnight, but doing a few of these things will ensure that your website gets a boost.
Improve Page Loading Speed
Search engines put a lot of emphasis on the loading time of a page. The quicker your page loads, search engines will give you points for optimizing your page load time. One of the ways you can do this is by implementing lazy load. Lazy load means that the loading of non-critical elements of your page will be deferred at the time of page load. This means that images or videos which can take longer to load because of their sizes will only load when they are visible on the page.
This is going to reduce your page load time, limit the resources you will require to load the page, and optimize your system resource usage. This will impact the performance of your page and make it load faster. Apart from taking care of one of the metrics that contribute to page ranking, this will also improve the user experience on your website and reduce the bounce rate of your website. Bounce is referred to the visitors who come to your website but leave immediately because of a bad user experience.
This has been demonstrated in several studies; however, Ahrefs research has shown a strong correlation between the backlinks and search engine traffic. Authority Hacker carried out a similar study and found that backlinks are still the most important correlated factor for SEO success. As a result, the more backlinks you get, the higher will be your chances of getting organic search traffic. One of the ways of getting backlinks is to reach out to other websites' moderators or owners and to compliment them on their content while asking if you can link it to the content you are writing on your website.
Assuming that you are producing amazing content or building a tool that will help businesses in overcoming some of their pain areas, or providing top-of-the-line products or services, these people will also create backlinks to your website. And you are going to find, that over time, it will create more backlinks for your website which will help to get more search engine traffic and improve your rankings. So, at the end of the day, the most important thing you can do to get more website traffic and rank higher is to produce amazing content regularly.
Implement Search Snippets
One of the most overlooked aspects that will affect your search engine page rankings is search snippets. You need to make sure that you are leveraging the search snippet functionality. According to research done by Authority Hacker, if the keyword that you are targeting is a high-volume keyword, search snippets can take up as much as 75% of the top spots. That's a lot.
Often Google uses the Meta Description or the Meta Title of the page for the display of the snippet. Of this 75%, featured snippets can take up as much as 20% of the results. The featured snippet is where the descriptive part of the snippet is shown up first. One way of leveraging search snippets is to use the FAQ schema markup. Make sure that you use your FAQ schema markup to get more traffic to your website.
This is where it all starts when you are trying to get traffic to your website organically using SEO. If your page is targeting keywords that no one is searching about, then it is obvious you will not get any traffic on your page. And it does not matter how many backlinks you might be having. If you do not target the right keywords you will not be found. You might get some traffic, but it is going to be negligible.
So, take time to research what users are talking about. Search engines are intent-based platforms. Unless you understand the intent of your users, how are you going to write content that is beneficial for them? So, to ensure that you are getting a good amount of traffic on your website, start with keyword research.
There are tools like Ahref or Ubersuggest where you can put in the keyword and it will tell you the monthly search volume and the difficulty of ranking on the keyword. Make the proper judgment based on your current situation. Do not go for a highly competitive keyword if you are a new website. Build from low competition keywords.
Another relatively easy thing to do but often overlooked is the use of Meta Tags. Meta tags are a fundamental element that search engines use to read your website. You need to insert target keywords in your H1 and title tags. Having keywords in your H1 and Title tags has a strong correlation with your ranking. Think of it from the point of view of the person searching for a keyword. When the search keyword is in the listing, it is more probable that the person who did the search will click on the listing since it contains his search keyword.
This is pulled by the search engines from the title tag that you are putting on the page. So when you are searching on any search engine and you see the title, which is actually your title tag that the search engine is showing. So remember that your title tag, meta description, and even your H1 tag should contain the keyword for which you want your page to rank. Without doing keyword stuffing, ensure that you use the keyword or variations of it throughout your content. Make use of the tags because that will help you rank higher on the search engine pages.
There was a time when you could have your site SSL enabled. There was a notion that if there are no financial transactions made through the website, it is OK not to have an HTTPS-enabled website. Unfortunately, it is not like that anymore. HTTPS has to be there on your website if you want to rank on search engines. So if your website is still an HTTP website, ensure that you get an SSL certificate for your domain and make your website HTTPS.
Do you know about Google's Lighthouse Audit? Google does a Lighthouse audit on every website. While having a high audit score does not guarantee you higher rankings, but if your Lighthouse score is low, your rankings will not be good. Lighthouse score is an indicative score of how good your website is. If the quality of your website is not good, then, needless to say, visitors landing on your website will not have a good experience.
Search engines always put the person doing the search at the center of all their policies to ensure that this person has the best possible experience. If a person lands on your website and then immediately leaves your website because of the quality of your website, it does not matter how good your content is, or whether you have HTTPS on your website, or how many backlinks you have. If the quality of your website is not good, you are not going to show up.
I hope you enjoyed reading the blog. So, if you take care of the points mentioned in the blog, you can be sure that over time you will see that your website will start ranking for the keywords that you target. This will lead to more visitors. Now how to convert those visitors into paying customers, that's for another day.